How to Write Songs with an Authentic Voice
What is a songwriter's authentic voice?
The best compliment a writer receives is praise for originality-a song with his or her personal stamp on it. Of course, originality is what happens when something new arises out of what's already been done, so the compliment extends to the writer's influences as well.
A songwriter's unique history and combination of influences makes up their authentic voice. Also, their particular and personal obsessions; the emphasis they give to one thing over another. These are the most personal aspects of a songwriter's work.
An authentic voice identifies the writer like his or her fingerprints. Who else but Gary Burr could have written:
"She'd never leave that one, so She Can't Be Really Gone."
► Note the elegance of leave/one echoed in be/gone.
"She must intend to come back, when I've seen the error of my ways."
► Only Gary can write poetry that sings this well.
Or Skip Ewing:
"I'll still be waiting for you, on The Coast of Colorado."

And "If a man can live on love alone."
► Only he needed to sing those rolling vowels as if his life depended on it!
Think of the grown-up intellectual quirkiness of Bobby Braddock's "People Are Crazy," and "I'd Rather Have What We Had."
The harmonic signature of Hugh Prestwood in songs like "That's That," "The Song Remembers When," and "Departure."
All different. All original.
We must be careful though, for the conscious intention of sounding original leads to exaggeration-the very opposite of sincerity, an amateur move with a capital "A".
How Do You Write Songs that Sound Like Yourself?
"It takes a long time to sound like yourself." - Miles Davis
Personal choices and the confidence to choose presupposes creative freedom, and this is not always the case in the music industry's standardization of popular songs. So many we hear these days anyone (no-one) could have written. It's dentist office art. So, how do you write from an authentic place?
✅ Quick Tip: Resistance leads to discovery, exceed your original impulses.
1. Avoid cliche' and over-worn ideas and images.
Everybody gets tired of hearing the same things over and over again. Explore your unique perspective.
2. Write a song that sounds like it had to be written.
You're likely writing a song because you're passionate about something. So let that come through! A great song has an urgency and inevitability about it; it sounds like it had to be written, and you had to write it!
3. Cultivate Your Obsessions
What are your particular likes and dislikes when it comes to rhyme type, song form, grooves, subject matter, point of view, chord choices, etc? Become aware of these unconscious choices and magnify them.
4. Write what you know. Write where you know.
Personal experience is a gold mine for song ideas and their expression. Most likely, the scenarios and emotions you have lived through, others have done the same, to some degree or another. Tell your truth and it will be others' truth. But remember: the truth should always serve the craft. If the Grandfather you're writing about in your song is 97 years old, but 98 rhymes better-he's 98!
✅ Quick Tip: Never let the truth get in the way of a good song!
Write from where you are. Look around the area in which you live, the space you inhabit. What makes it interesting to you? What brought you here? What keeps you here? If you inhabit an area long enough you become a trusted interpreter of its unique place in the world. Build your songs around this uniqueness. Regionalism can be an important distinguishing characteristic for you as a songwriter, and even more so as an artist. Think of George Strait and Texas, Jimmy Buffet and island life, Tom Waits and New York City, Dr. John and New Orleans.
5. Imitate your Favorite Songwriters and Refashion

"Conscious that he is stealing, the composer seeks to cover his traces. In so doing he expresses himself in spite of himself. The act of covering one's traces is the act of creation."-Ned Rorem
The most original writers are the most imitative. If a writer has something new to say, it will come through. The very fact that he has the support of a tradition, an older writer, or a new favorite, will enable him to be more himself. Honest imitation involves a confrontation, and re-creation, of someone else's vision. Use it to light your own way.
"It is the unconscious role of the innovator to conserve in his/her creative reflexes both past and contemporary innovation while moving his own work in new directions. He assimilates what is fresh and stimulating, and he then explores his own intuitive sense of the further possibilities in the forms and devices of others." - James Mather
Songwriting through the Mask

Another way of discovering your songwriting authentic voice is by self-consciously taking on masks. The way we write is a reflection of our personality (Latin per sona-the voice sounding through the mask), and the voice that emerges is given shape and substance by the contours of the mask. The idea is that there is never a single "self"; instead masks reflect the reality of multiple selves.
"Contradict myself? Of course, I contradict myself! I contain multitudes!" - Walt Whitman

One day you're writing a song from the perspective of an old man whose seen life's darker sides, the next you're an unwed mother moving to a town you've never heard of, the next day you're a rodeo cowboy making his way across Montana for that last big ride. One songwriter-many different masks.
Even if you're writing from a deeply personal place, the voice that emerges is sounding through one mask among many others that you wear.
For songwriters, personality is an invention as much as a discovery, and an authentic voice is only achieved self-consciously, over the long haul, by sounding through masks not necessarily your own.
"In some ways a writer may be freer to expose herself in a character unlike herself. There is liberty behind a mask. The mask may become the condition for speaking the truth."-Erica Jong
✅ Quick Tip: Songwriters are actors. Depending on the role you're playing while you're writing a particular song, it can be hard to recover your self afterwards. Give yourself some time to recover and get back to being who you really are.
How to Create an Authentic Voice while Co-Writing
We're lucky if we find a co-writer or two who allow us to express our individuality, and explore our compulsions, without being made to feel overly self-conscious. Creating an authentic voice with more than one writer in the room is rare, unless the chemistry is great, or the roles are clearly defined. Often, though, the songwriting result is more or less status-quo.
There have been, however, some very successful co-writing teams who have managed to create and maintain an authentic voice.
Successful Co-writers with an Authentic Voice
Burt Bacharach and Hal David


Elton John and Bernie Taupin


Glenn Frey and Don Henle


John Lennon and Paul McCartney


Mick Jagger and Keith Richards


Jerry Leiber and Mike Stoller


Gerry Goffin and Carole King


Alan and Marilyn Bergman are unique in that they have managed to craft "one voice" as two lyricists working together.



Many successful co-writing teams from the "Golden Age of American Songwriting" 1930-1950
Although successful co-writing teams with an authentic voice were more popular in the past than they are today, there are groups of three or more writer/producers in the Pop and Country markets who are doing some real defining work at the present.

What Will Your Authentic Songwriting Voice Sound Like?
We've seen how a songwriter's authentic voice can be realized by assimilating past and present influences, writing from a place of urgency, cultivating one's unique obsessions, writing from personal experience and place, imitating a favorite writer or tradition, and consciously taking on masks.
If you apply these concepts in your approach to songwriting, you will, over time, sculpt an authentic voice that will sound like you and no one else. No one, that is, except the long line of influencers you are honoring, and the best practices you are passing on. Join the club!
"For last year's words belong to last year's language,"
"And next year's words await another voice." - T. S. Eliot "Little Gidding"
About the Author
Steve Leslie is a multiple BMI Award Winner, former Adjunct Professor of Songwriting at Belmont University, Nashville, TN, and in 2013 was one of four internationally selected candidates considered for the Chair of the Songwriting Department, Berklee College of Music, Boston, MA.
Whether you're a beginner songwriter or an experienced one, we're here to help you along your journey. Check out our free resources, at the link below!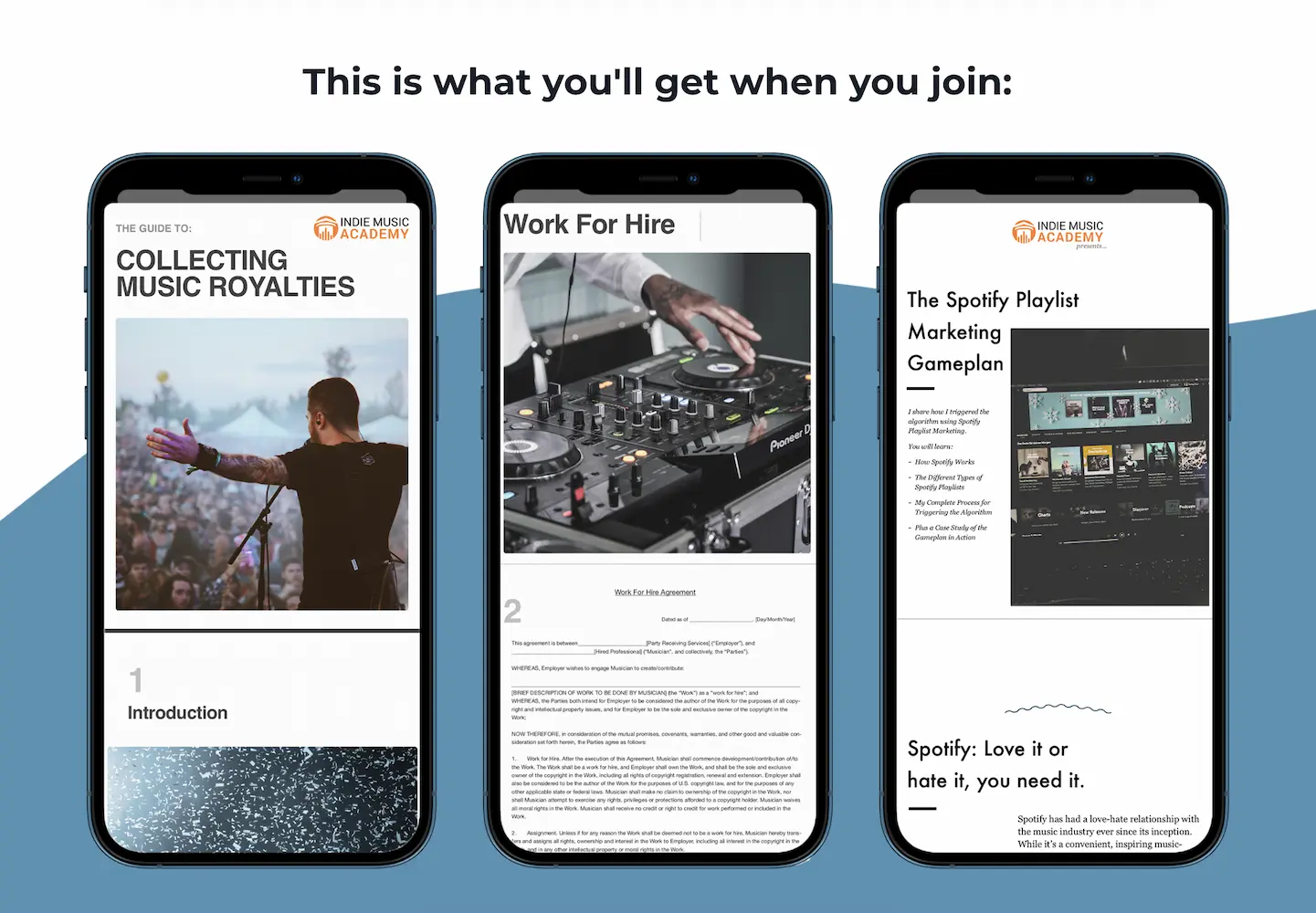 The Indie Vault
Inside the Indie Vault, you'll have complete & unlimited access to Essential Music Industry Contracts, and our music industry resources such as the Spotify Playlist Gameplan & our Music Royalty Collection Guide