How to Write A Song In One Day with Only an Idea
Writing a song fast can actually unlock hidden creativity.
Great music and albums are often are made with a strict time limit—some even become a hit song. Let's dive into a moment in my music career where I wrote an entire song in one day.
I was in Montana a few weeks back playing in some wonderful Performing Arts Centers (PAC). One of our stops was Belt, Montana. We pulled in early, settled in, fired up the fireplace, I broke out the guitar, and thought to myself, "How cool would it be to write a song about Montana to share with the audience tonight?"
The idea on writing day: what if I wrote a song about Montana? I had a 3 hour period of time for the rapid song development of this specific idea.
Writing on Assignment
Having a specific goal and a limited amount of time to achieve it is a great motivational challenge. I've been fortunate in my songwriting career to have been offered such challenges, opportunities like: George Strait is looking for a "summer beach" song, Darryl Worley needs a "train beat" type uptempo, Darius Rucker is looking to record a Christmas song about a specific holiday object like mistletoe, or sleigh-bells, or candy-canes! Many successful songs use this type of song writing. I talk about "Limitations are Liberating" in greater detail in my course: The Fine Art of Songwriting.
Writing on Assignment has been around since the early days of Tin Pan Alley, the Brill Building, and writing in the Hollywood studio system since the 1950s. Thousands of songs have been written using this limitation. Even periods of history and tense political climates can place invisible limitations but still lead to fantastic music such as the anti-war songs of the 60s.
So here I was on writing day. With nothing but an idea. My first strategy is always to begin with rhyming the title.
Rhyme the Title
As I teach in my course, one of the fastest ways to "solving" a song is rhyming the title. So, since I'm in Montana: Hannah, banana, bandana, Rosanna, cabana, Atlanta.
Atlanta… Perfect rhyme if you say it like we say it in the South: "Atlana!"
So here we are.
Montana, Atlanta. Atlanta, Montana. I liked the way the second one rolled off the tongue:
Atlanta, Montana.
Sounds like a choice, like "Heads Carolina, Tails California"
So…the singer has a choice: stay in Montana or go back to the girl he left behind in Atlana.
Establish the Scenario
Beginning with action is a great way to kickstart your song and establish the essential scenario right off the bat. It's also helpful to begin with place.
VERSE 1
HAD TO GET AWAY, SPEND SOME TIME
BY MYSELF, MAKE UP MY MIND
MONTANA
VERSE 2
AND YOU'RE BACK HOME, CITY LIGHTS
BIG OL' MOON, HOT SOUTHERN NIGHTS
ATLANTA
Bridge, Refrain, or Chorus?
Something told me (30 years of experience that the title-Atlanta, Montana, was not a big enough statement to begin and end a chorus with. In cases like these, a Refrain is a better choice.
(A song refrain is similar to a chorus: it repeats after verse sections, but is usually not as long, and typically does not contain the song title.)
REFRAIN
YOU SAID "I AIN'T LEAVIN' GEORGIA"
"MONTANA'S GOT TOO BIG A SKY"
"STAY OR SAY GOODBYE"
The Release/Conflict
The third A section (acting as the release in AABA form) establishes the conflict: What will he do? Will he choose the girl in Atlanta or stay in Montana?
SO HERE I AM, IN BELT TONIGHT
STILL GOT TIME TO CATCH THAT FLIGHT
ATLANTA? OR MONTANA? ATLANTA? MONTANA?
Additional Songwriting Techniques I Used
During my 30 year songwriting career, I would sit in the writing rooms across the greatest songwriters in the world as we "solve the song" and the many different creative challenges that naturally arise during songwriting.
I would always be the one in the room thinking "wow, how did we arrive at this great lyric" or "that technique we used... can I create a memorable name for this?" Doing this real-time analysis while writing what would eventually become grammy-winning songs is what eventually led to creating my course: The Fine Art of Songwriting. Here are some additional songwriting techniques that I used while writing Atlanta, Montana (and are also covered in depth inside the course).
Say the Same Thing only Differently
I didn't want to answer the above question just yet (Honestly, I wasn't sure which choice the singer would make yet! What power we wield!) So, I basically said the same thing differently:
YOU CAN'T FIND A VIEW LIKE THIS
HEAVEN KNOWS IT GOES ON FOREVER
BUT I STILL SEE THOSE ANGEL EYES
WISH YOU WERE HERE BY MY SIDE (BUT)
REFRAIN
Conjunction Junction
The (BUT) ending verse 4 and beginning the second refrain is an important choice. Read it with the word (AND), or with no conjunction at all. See what I mean?
Delayed Gratification
A solo over the verse section and another repeated refrain further delays the "big reveal."
SOLO
REFRAIN
Rhetorical Scheme
The restated "SO HERE I AM" (from the first release) is known as a rhetorical scheme. It plays to the notion of lyric economy, and makes the lyric feel condensed and the choice intentional:
SO HERE I AM, WRONG OR RIGHT
HEADED SOUTH FOR BOZEMAN TONIGHT
ATLANTA? OR MONTANA?
ATLANTA? OR MONTANA? ATLANTA? MONTANA?
MONTANA, MONTANA
MONTANA!
How We Say Something
How we say something conveys as much information as what we say.
After some second-guessing the question marks disappear (Atlanta? Montana?), and the singers vocal inflections say it all:
MONTANA, MONTANA
MONTANA!
Needless to say, the good folks of Belt Montana loved the song (although half of the audience wanted him to go back to the girl)!
And I (re-) learned another lesson: There is no such thing as writer's block as long as you have a reason to write, a title to work with, and a limited amount of time to get it done.
---
Whether you're a beginner songwriter or an experienced one, we're here to help you along your journey. Check out our free resources, at the link below!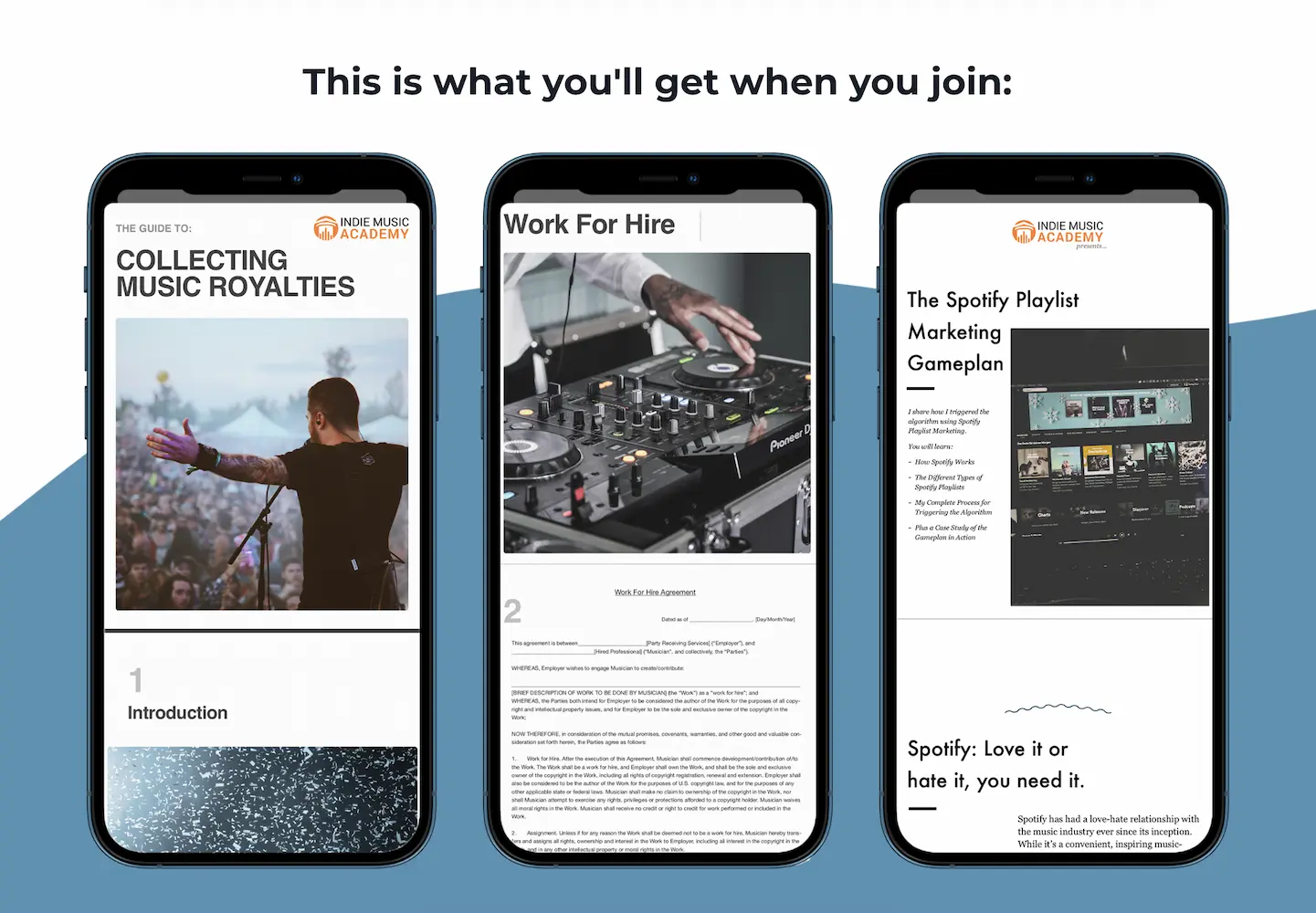 The Indie Vault
Inside the Indie Vault, you'll have complete & unlimited access to Essential Music Industry Contracts, and our music industry resources such as the Spotify Playlist Gameplan & our Music Royalty Collection Guide